Grand Monaco Homes II - LOCATION
The phrases "strategic location" and "prime location" may have been used interchangeably by many real property agents and workers but in our case, Grand Monaco Homes II is strategically located on a prime location.
It is strategically located in Quezon City, one of the country's prime business hubs for decades. Construction boom and key commercial exchange has been happening and continue to take place in this city, a sure place for your investment. It is what most investors like in a place, where their investments silently grow over the years. Your Grand Monaco Homes II investment will continue to appreciate while you are sleeping and busy with your work.
It is located in a prime location because the country's top universities and colleges, best hospitals and top government agencies are within the stretch of your view, meaning they are just too near to your location. Great food hubs and national headquarters are mostly located in Quezon City. And because your convenience is very important to us, we identified the following establishments near Grand Monaco Homes II which can be easily accessed:
 
Schools
Toro Hills Elem. School
Goodwill Elem. School
Sitero Francisco National High School
Ismael Mathay Sr. High School
University of the Philippines Diliman
New Era University and many more
Hospitals
Quezon City Gen. Hospital
Amang Rodriguez Mem. Medical Center
Our Lady of Lourdes Hospital
St. Lukes Medical Center
National Children's Hospital
Churches
Christ the King of the Universe Parish
The Church of Jesus Christ of Latter Day Saints
Corpus Christi Parish
San Bartolome Parish
Kings Point Bible Baptist Church
Parish Church of the Holy Family
Iglesia ni Cristo
Malls/Shopping Centers/Food stores
Nova Square Mall
RMR Square
Circle C Square
Jackman Plaza
SM City Novaliches
Sns Pinoy Bestbuy
Bargain Center and many more
Government Offices
Philippine Health Insurance office
Land Transportation office
Quezon City Hall
Dept. of Agriculture
Dept. of Information and Communications
Bureau of Internal Revenue
Land Registration Authority
Dept. of Interior and Local Government – National Police Commission
National Meat Inspection & Sanitation Board office
Bureau of Immigration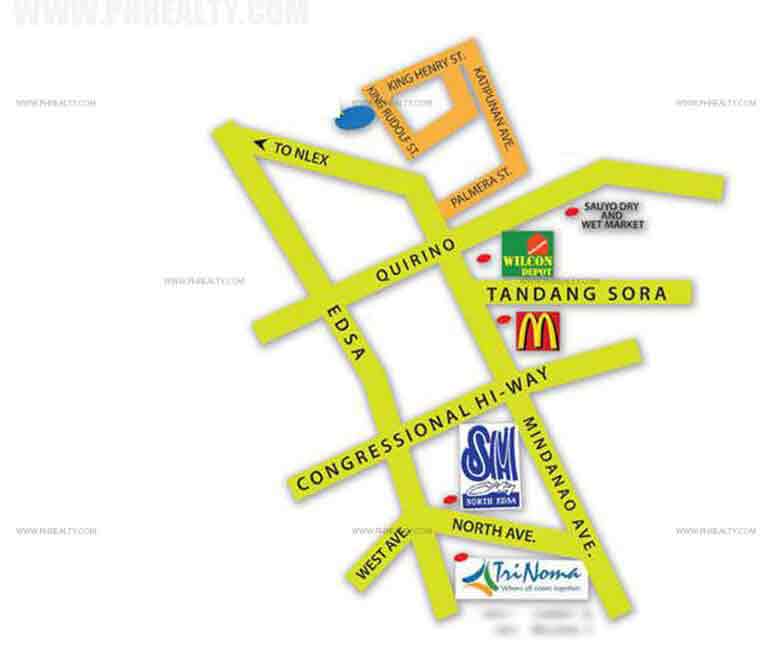 With the list of available nearby establishments that you can easily reach, convenience by any definition, is here at the Grand Monaco Home II. Banks, gas stations, car repair shops among others are within the 1 to 2 kilometer radius. Within Quezon City and Kingspoint Subdivision, the flow and exchange of public transportation is unending, practically 24 hrs a day so you will not have any trouble going to and from Grand Monaco Homes II.
Quezon City is also home to two of the biggest television networks in the country, ABS-CBN and GMA-7. Within a short distance ride, you will be able to reach these 2 stations. Depending on your free time and preference, you can watch daily live shows and other entertainment here. Just to mention, the famous Quezon City Memorial Circle is located not too far from Kingspoint subdivision.